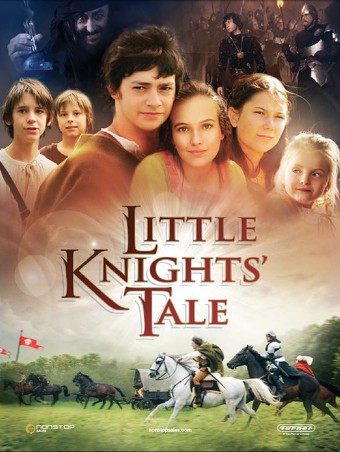 2009
Directed by Karel Janák
Shot on 4K Red Cam
Genre: adventure medieval comedy
Coloured, English subtitles
7x 56´UHD, 14x28´ UHD
Dolby Digital 5.1
Story
"Medieval times from a little bit different angle"
The castle and the fortress loom defiantly in close neighbourhood, surrounded by a deep forest. A rather peaceful living is disturbed by an unexpected event. Martin, a virtuous knight and a caring father of five children, is denounced for witchcraft and pillaging. He departs for the royal court to defend his honour, leaving the fortress in the hands of his eldest son Peter and his siblings. Nobody suspects at this time the deceitful lord from the neighbouring castle wants to take possession of their fortress. … He is the Lord Albrecht the Bloody Nose. He callously follows his plans and it is obvious from the very beginning that he is going to have no scruples about anything. The carefree childhood is suddenly gone and the children's lives soon turn into adventure with unexpected twists. Soon it becomes clear that this is going to be a life-and-death battle. A bunch of footpads capable of anything enters the story and they are the ones who bring a fair amount of humour, apart from the thrilling moments. The characters of the movie speak a modern language and they are also thinking in a modern way. But the circumstances they have to face substantially differ from those we see at present days and they can only be overcome with common efforts.
Apart from the adventure, love and friendship are not omitted in the story.
This dynamic tale full of intriguing plots, chase scenes and combats can speak not only to children, but those who like stories full of life and humanity.
Crew

Story: Boris Krištof
Script and Director: Karel Janák
Director of photography: Martin Preiss
Střih / Editor: Martin Kirov
Executive production: Three Brothers production
Production company: Three Brothers production, Česká televize
Producers: Boris Krištof, Igor Krištof, Viktor Krištof, Magdalena Sedláková (Czech Television)

Cast

David Prachař
Pavel Kříž
Dany Mesároš
Tereza Voříšková
Ivana Korolová
Štěpán Krtička
Jan Komínek
Andrea Žádníková
Matěj Hádek
Martin Písařík
Michal Beran
Bjelac Predrag
Jan Battěk
Hynek Čermák